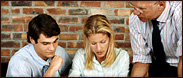 Khasin & Drozdovskyy are known for the depth and strength of its business potential, for building strong relationships with clients and for protecting the business interests and assets of our clients. We take a multi-disciplinary approach to handling complex transactions and litigation and in advising clients on a wide array of legal issues.

We provide an extensive array of services covering legal and industry specialties. The list herein provides a quick glance at those services. Still, provided the following scope doesn't meet your expectations do not hesitate to contact us to make sure on our individual approach to each client.


Litigation & Dispute Resolution
Khasin & Drozdovskyy litigation attorneys professionally represent clients' interests in court proceedings in Ukrainian Commercial, Civil and Administrative courts when disagreements arise. Khasin & Drozdovskyy trial lawyers are adept at achieving the business objectives of our clients in cases ranging from contract disputes and regulatory matters to securities class action lawsuits and other complex commercial litigation.  We serve our clients with a broad, national litigation practice by attorneys whose backgrounds and experiences are as varied as the clients we serve.  As advocates and counselors, we succeed by combining knowledge of our clients' business with expertise in the law and the art of advocacy. Our experience and foresight leads to sound assessments of business and legal risks, accurate estimates of costs of defense, and, when necessary, favorable settlements.  As a result, we can deliver cost-effective services on multi-budget cases and efficiently respond to smaller matters.
Corporate
Khasin & Drozdovskyy corporate lawyers handle a full range of corporate, securities, and financing matters, including public offerings and private placements of equity and debt for both issuers and underwriters or placement agents. In addition, we have a considerable experience in establishing the new legal entities, corporate restructuring, liquidation of legal entities, corporate governance, etc. We provide with our high grade professional corporate services both national and foreign clients.

Other legal matters

Beyond those outlined above Khasin & Drozdovskyy advises on the following areas:

Construction
Intellectual property
Working out the drafts of draft laws
Real Estate
Tax
Banking
Antitrust
Media & Entertainment
Labor
Telecom and technology

Details